Sea moss, also called Irish moss or carrageen moss, is a type of edible sea algae that can be found along the coastlines of the Atlantic Ocean in North America, Europe and the Caribbean. There are different varieties but the most well-known are the red Chrondrus Crispus and gold Eucheuma Cottonii.
Historically, sea moss rose in importance in the 1800s during the potato famine in Ireland, when the Irish resorted to consuming it for survival. Otherwise, it was fairly unknown outside of coastal regions.
Some level of popularity was gained when Bahamas-born entrepreneur Alexiou Gibson appeared on Shark Tank and impressed the sharks with his line of sea moss gels. There has since been an apparent surge of viral videos showcasing smoothie recipes and beauty tips on social media using the sea vegetation.
Here in the Caribbean, edible seaweeds were traditionally wildcrafted from their natural habitats, though farmers now cultivate and harvest on a large scale to meet the growing demand.
As for myself, I grew up on sea moss as a child. In my culture, it is a popular food for its nourishing and energizing properties. Sea moss punch was always a treat to me. Smooth, creamy and so satisfying as the thickness of the drink would fill my little tummy. My Granny added cinnamon, nutmeg and bay leaves, flavours that blend well in the punch.
Benefits of Sea Moss
A true superfood, sea moss contains 92 of the 102 trace minerals that are needed for the human body including:
Calcium
Iodine
Magnesium
Potassium
Iron
Zinc
It is rich in vitamins, A, C, E, K as well as amino acids and has antiviral, antibacterial, antimicrobial and anti-inflammatory properties.
Studies show that it supports metabolism, immunity, reproductive health, thyroid function and a myriad of other health issues. It also helps in collagen production to keep skin supple and improve elasticity.
Recently, its use has expanded from dietary and supplemental use to the cosmetic and pharmaceutical industry as it has been found to be beneficial when applied topically.
Being rich in sulphur, it is good for skin and hair and can be applied as a mask.
Sea moss can be found in body care products such as:
Sunscreen
Lotions
Shampoos
Conditioner
Shower gels

Moisturizers
Related Post: Mango and Coconut Milk Handmade Soap Recipe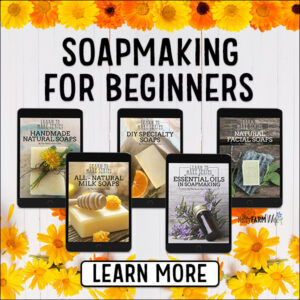 How to Make Sea Moss and Coconut Milk Soap
This sea moss soap is very soothing and moisturising. Coconut milk was included for additional creaminess and lather.
I used lavender essential oil to scent this soap, but feel free to use any essential or fragrance oil you prefer, or simply leave it unscented.
Ingredients
Puree – 3.5 ounces of fully hydrated Sea Moss and 4 ounces of water.
Directions
Preparing The Sea Moss
For this soap, I used the Karibbean Flavours brand of dried golden sea moss, Eucheuma variety.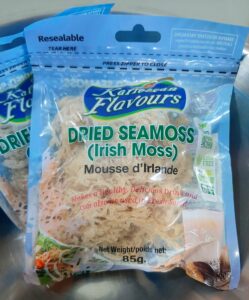 First, wash the sea moss under running water, gently massaging it to remove debris, sand and salt. Next, place it in a bowl with purified water. Ensure it is fully submerged.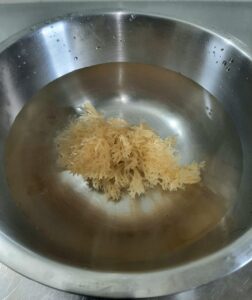 Allow it to rest overnight or for at least 12 hours. It will rehydrate and expand to multiple times its dried size.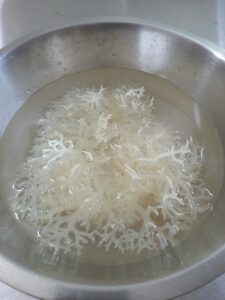 Use the scale to weigh out about 3.5 ounces of hydrated sea moss.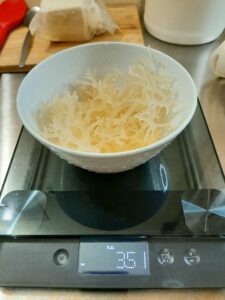 Next, weigh 4 ounces of distilled water.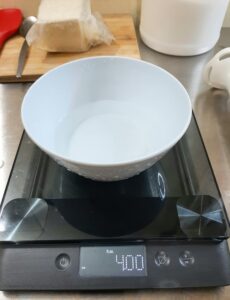 Add the sea moss and water to a blender and puree to a smooth applesauce consistency. Cover it and set it aside while we prepare the soap ingredients.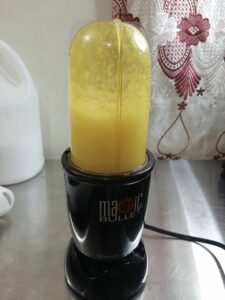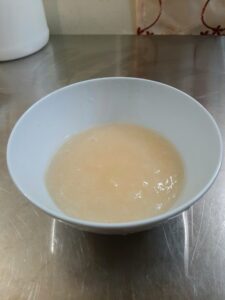 Gather all your ingredients and tools to make the soap.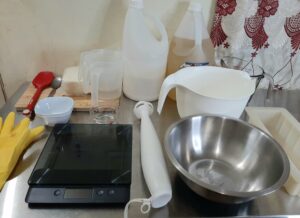 SAFETY FIRST!
Put on your safety glasses, gloves and long-sleeved clothing. Always ensure that there are no children or pets in your working area and that you are free to work un-distracted.
In a stainless steel or heat-resistant container, weigh out 8 ounces of water.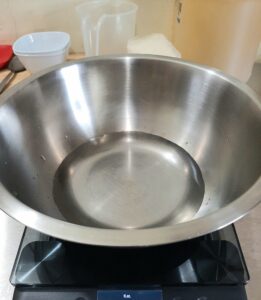 Weigh the sodium hydroxide, in a separate plastic container.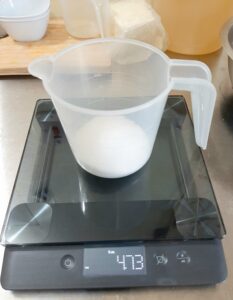 In a well-ventilated area, add the sodium hydroxide to the water (in that order) and stir with a stainless steel spoon until dissolved. The reaction gives off heat and fumes. Ensure that you do not inhale the fumes. Set the lye solution aside in a safe place and allow it to cool to room temperature.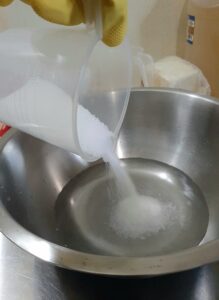 Weigh the oils and place them into the mixing bowl.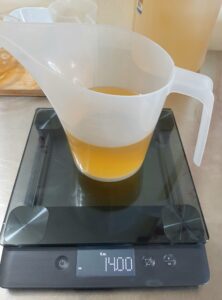 Next, in a heat-proof/microwave-safe bowl, weigh both the cocoa butter and the shea butter.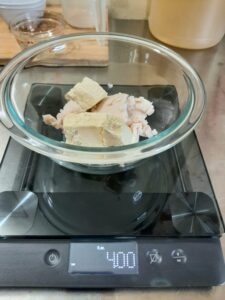 Melt the butters in a double boiler or in the microwave. This time I opted to use the microwave instead of the double boiler. After about 1 minute, I removed it from the microwave and set it on the counter to allow the residual heat to finish melt the solids. When all solids are melted, add the butters to the oils in the mixing bowl.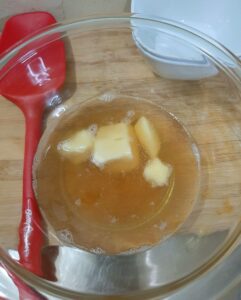 Next, weigh the coconut milk.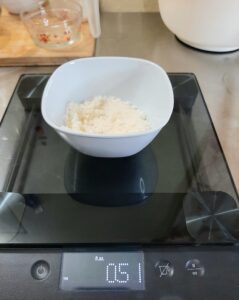 Using a glass container, weigh the essential oil. I always use glass to weigh fragrances and essential oils as these oils tend to erode plastic.
Once all ingredients are prepared, remove any unnecessary items from the area and lay out just what is needed to proceed. Now we are ready to make soap!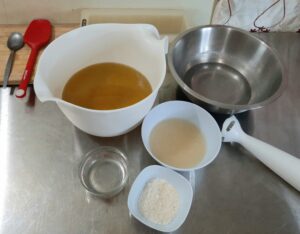 Add the sea moss puree to the oils.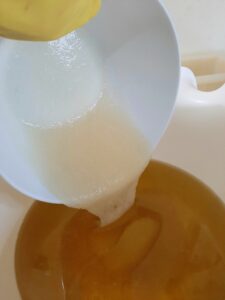 Then add the coconut milk powder to the mixing bowl.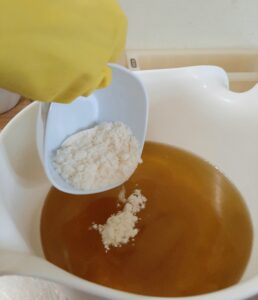 Blend the mixture thoroughly with the immersion blender until everything is uniform.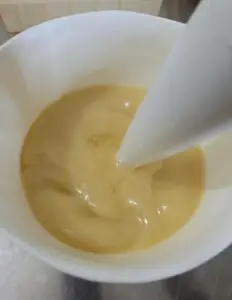 Add the fragrance and blend again well to incorporate it.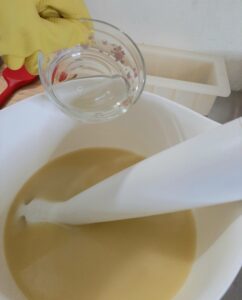 Add the lye solution carefully to the mixing bowl.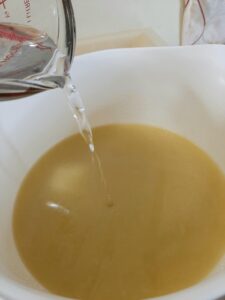 Use the immersion blender to blend the soap using a mixture of blending and stirring with the blender until the soap reaches trace. Trace as pictured below is when the soap batter emulsifies and thickens and when drizzled upon itself, leaves a raised trail on the surface of the soap.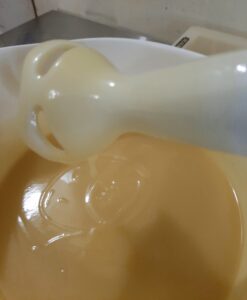 Once trace is achieved, pour the soap into the mould.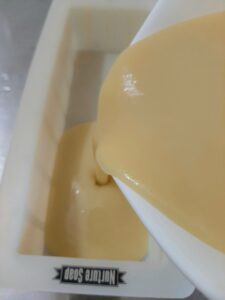 Set the mould aside in a safe area where it will be undisturbed for 24 hours.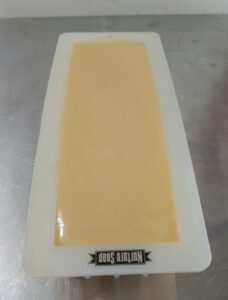 When the soap has solidified, remove it from the mould and cut it into bars.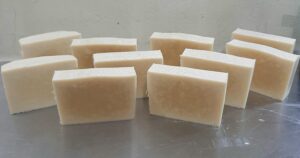 Place the bars in a cool dry place that is well-ventilated to allow them to cure for a period of 4 to 6 weeks. Turn the bars every few days during the cure period to enable all sides to be evenly exposed to air.
When the soaps are cured, lather up and enjoy your rich, nourishing and luxurious sea moss and coconut milk soap! Happy soaping!!! 🙂