For quite a while I have been wanting to try my hand at making liquid soap. Although there are many resources and YouTube videos that demonstrate how to make liquid soap from scratch I decided to try the version from The Everything Soapmaking Book by Alicia Grosso.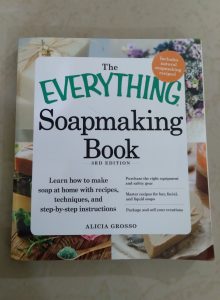 The recipe is a hot process soap utilizing three oils – coconut, castor and jojoba – water and potassium hydroxide. Fragrance is totally optional, but I used a few drops of Mango Mango fragrance oil from Bramble Berry in my soap for a fruity tropical scent.
For my readers who may not have made hot process soap before, see my post, Oatmeal and Honey Hot Process Soap.
This method of making soap does take some time, so set aside a day when you do not have much else going on to dedicate to making your liquid soap.
There are two parts to this process, making the soap paste and then dilution to the desired consistency.
Potassium hydroxide, also known as caustic potash, is usually used to make soft soaps such as shaving and liquid soaps as potassium salts are more soluble in water than sodium salts.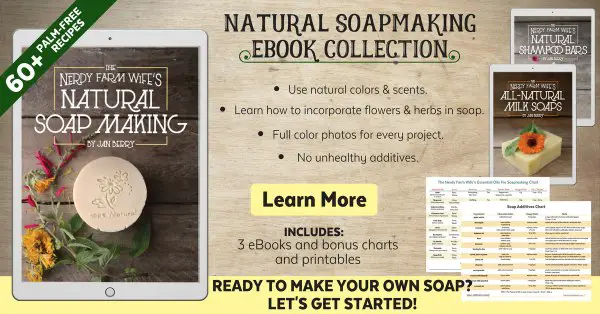 Related Post: Basic Soap Making for Beginners
Ingredients
This recipe yields approximately 3 pounds of soap paste, which will dilute to about 6 pounds of liquid soap.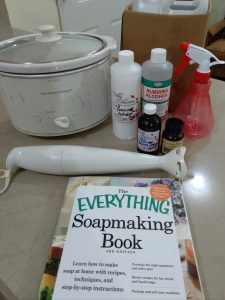 Directions to make hot process liquid soap
Safety First!
According to Kevin Dunn in his book, Scientific Soapmaking, "Potassium hydroxide deserves your respect."
The safety guidelines for potassium hydroxide are the same for sodium hydroxide. So suit up with your protective clothing, safety glasses and gloves and ensure that there are no children or pets in your production area.
Note: If you have to purchase potassium or sodium hydroxide online, check with your shipping company first as there may be shipping restrictions due to the chemical nature of these products.
Weigh out your potassium hydroxide.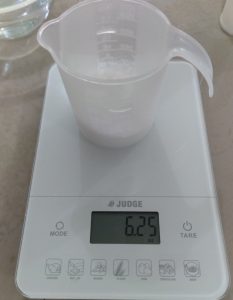 Weigh your water in a stainless steel or heat proof container.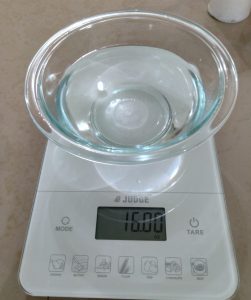 Add the potassium hydroxide to the water. Stir with a stainless steel spoon to dissolve thoroughly. The potassium hydroxide makes a sizzling/crackling sound as it dissolves, don't worry about it. Also, it produces more heat than sodium hydroxide so please be careful when mixing. Set the solution aside in a safe place.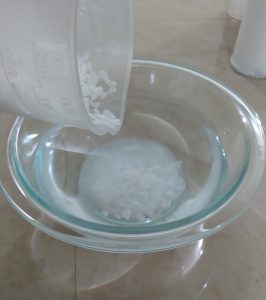 Weigh out your individual oils and add them to the slow cooker.
I use my old faithful 3 quart Hamilton Beach slow cooker, that I've had for years, to make all my hot process soaps.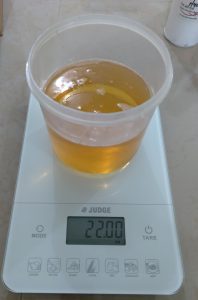 Put the cooker temperature on high.
Pour the potassium hydroxide solution into the oils and stir it with a stainless steel spoon.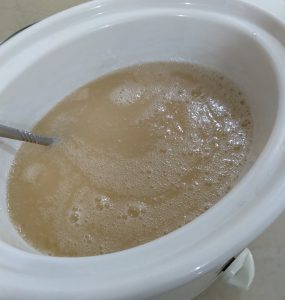 Using the immersion blender, blend the mixture until it reaches trace.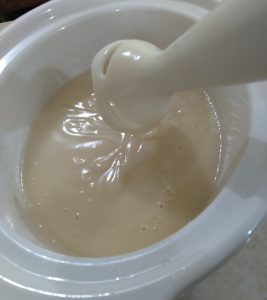 Next cover the slow cooker and allow the soap to cook.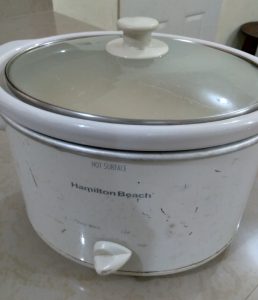 Check on the soap every thirty minutes, stir and fold it in on itself to mix it well.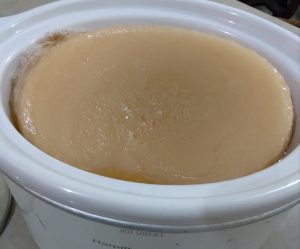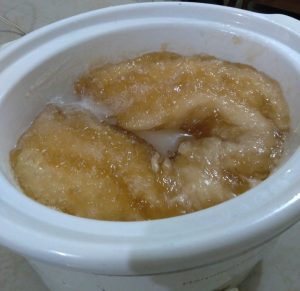 Keep the slow cooker covered in between the half hour checks. Continue to cook the soap paste until it becomes translucent. See the progression pictures below as I checked on my soap.
The recipe in the book says it may take about 3 hours. This would be dependent on the type of slow cooker you use – my soap cooked for a total of 4 hours.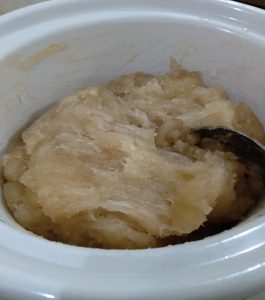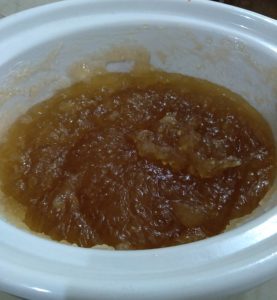 In The Everything Soapmaking Book the recipe uses phenolpthalein to test the neutrality of the soap paste to determine if it is done. I did not have any on hand and opted to use the clarity test instead.
To do this test, take a small amount of the paste and in a clear heat proof container, add a little boiling hot water to dissolve it.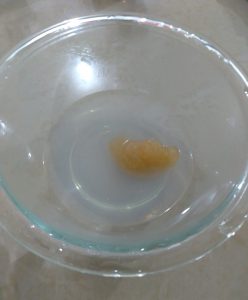 Keep stirring the paste to dissolve it completely. The soap will create bubbles, but you can use a spray bottle with rubbing alcohol to keep the foam down.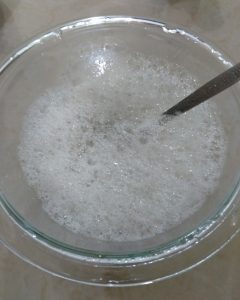 The objective of this method is to dissolve the paste completely in the water until it is almost transparent.
Below is the paste when I tested it at the 3-hour mark. It was very cloudy and opaque.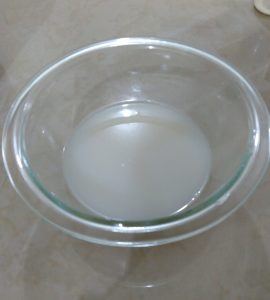 I allowed it to continue cooking until the dissolved paste was no longer white and milky and I could read words clearly through the soap.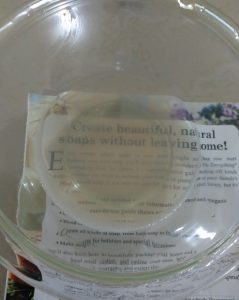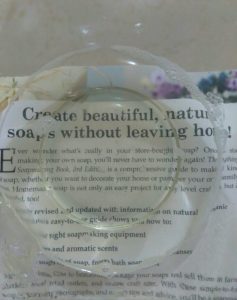 At this stage the soap paste is finished cooking!
The next step is to dilute the paste.
For the amount of liquid soap that I wanted, I removed half of the paste from the slow cooker and set it aside to cool for another day.
To the paste in the slow cooker, I added an equal amount of water. The heat was reduced to low and the paste was left to dissolve overnight.
The remainder of the soap paste, when cooled, was placed into a Ziploc bag, sealed, labelled and placed in the fridge.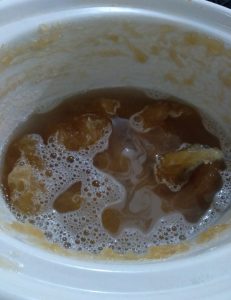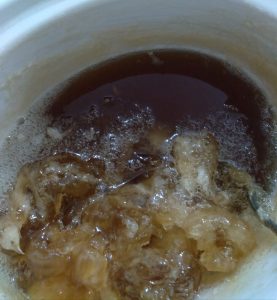 In the morning, I stirred the liquid soap which was a little thick and added more water until it was the consistency I wanted.
Next, it was allowed to cool to room temperature.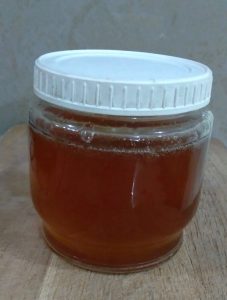 At this point I added a few drops of fragrance oil, just enough to scent the soap but not be overwhelming. This is optional, based on your preference. Note that some fragrance or essential oils may cause your soap to become cloudy so test it in a small amount of your liquid soap before adding it in.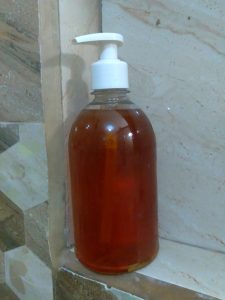 Next, pour your soap into a dispensing bottle, if you'd like, head over to the sink and lather up your hands in some of your awesome creation.
Making this liquid soap at home was a very rewarding experience and I encourage you to make your own, once you have completed a few of your own soaping projects.
Happy Soaping!